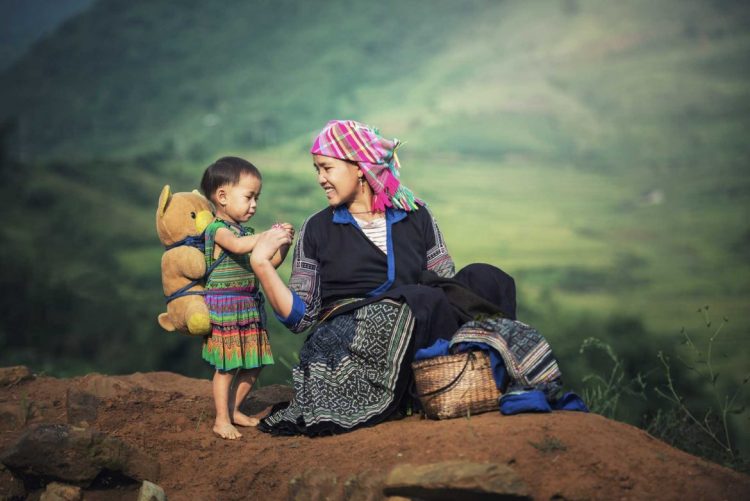 Top the 5 Most Breathtaking Terrace Fields in Southeast Asia
It's not everywhere in the world that you can find and visit the beautiful aesthetics and bountiful yield of a rice terrace-like Southeast Asia. In Southeast Asia, we are very much blessed to have several spots of stunning rice terraces for people and tourists all around the world to come and witness themselves. Here are the top most breathtaking terrace fields in Southeast Asia you may visit for this summer holiday.
1. Banaue Rice Terraces, Ifugao, Philippines
Located over 1,500 meters above the sea, Banaue Rice Terraces is one of the most important UNESCO heritage sites, which is often called as the 8th Wonder of the World by the Philippians. This wonderful natural land is 2000 years old but is threatened by growing tourism. Some local communities have currently abandoned their agricultural jobs to work in tourism. However, it is a popular terrace field in the world.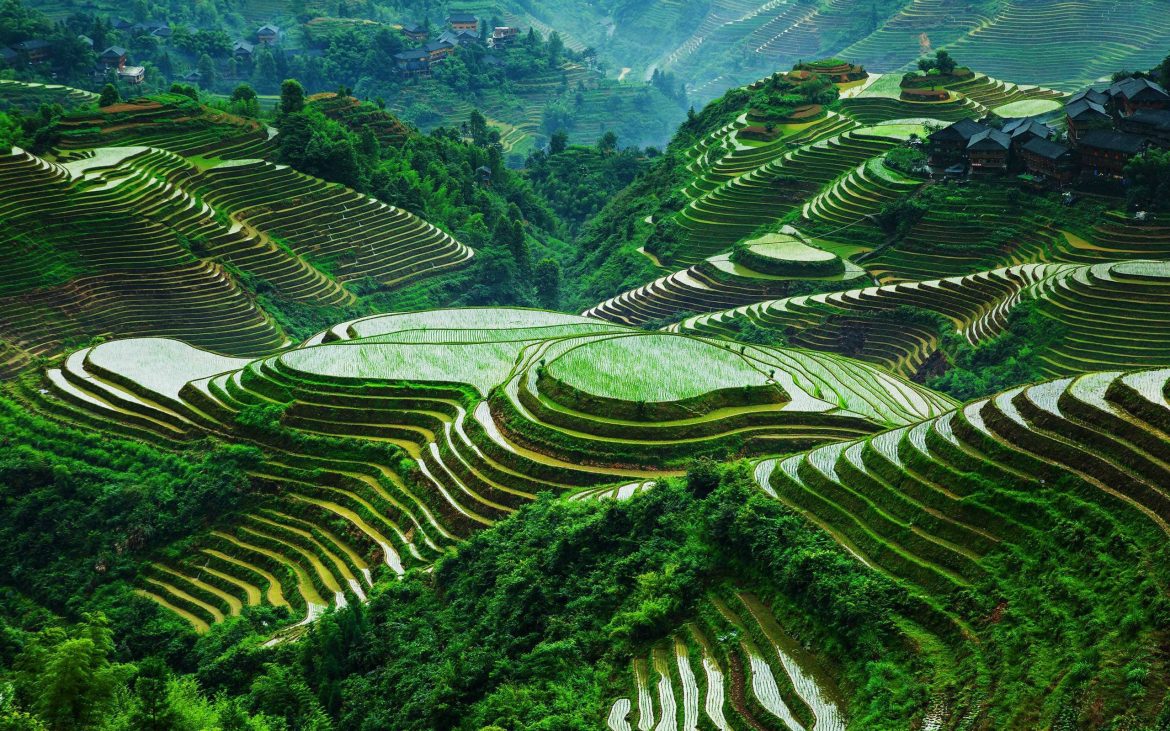 Things to do:
Ifugao has many things to offer if you take the time to find out. Visit Tam An native village to know the culture, eat Pinikpikan – a famous Ifugao dish which requires the cook to tap a chicken on the head with a stick until it dies, trek to the hills, and take a ride on a wooden bike, whether you're a nature lover, an avid trekker or a serious mountaineer, you will find something to your liking.
The best months to visit Banaue are during the months of April to May and October to November since these are the times when the rice terraces are at their greenest and most scenic state.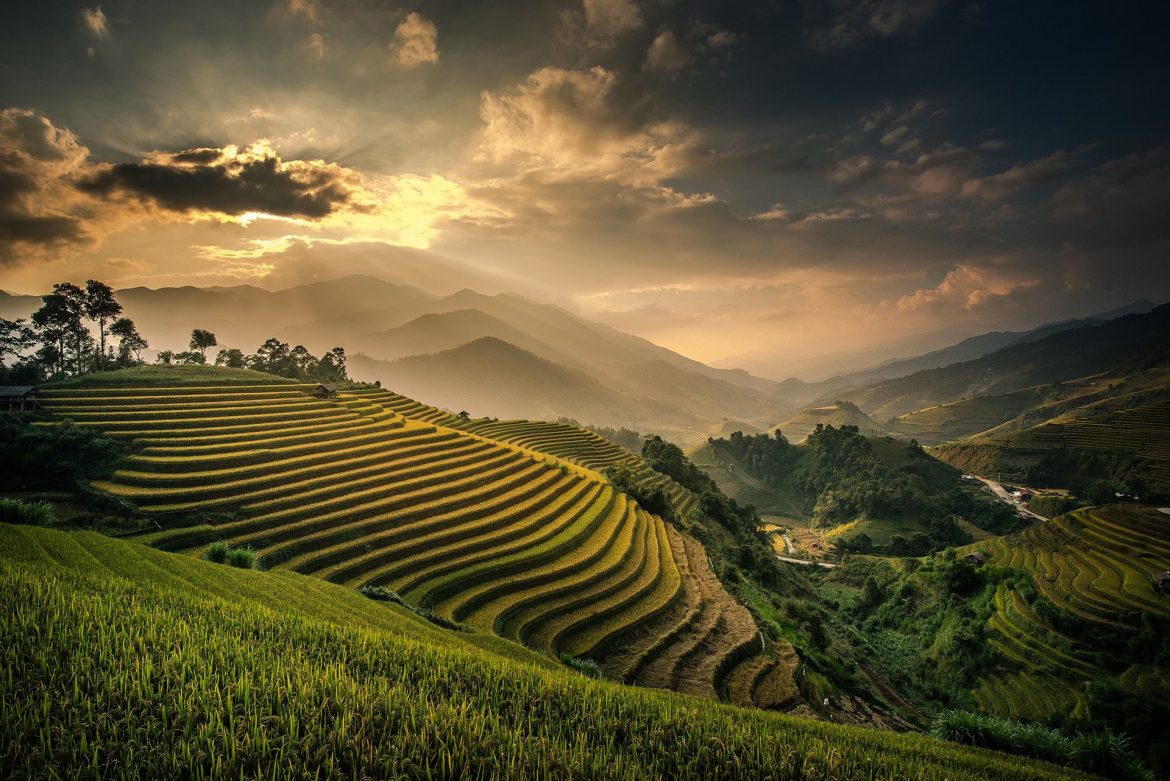 Time to visit:
It's better to hire a guide if you want to discover the location otherwise you might get lost. The mountain hike can take some hours but the breathtaking panorama view of the terraced valley is the reward for your persistence. The best time to visit is between February and March and between June and July, before the harvest. You can get to the terraces by bus from Manila by bus. The journey takes around 8 hours but the road is in good condition and the view is amazing.
2. Tegalalang Rice Terrace, Ubud, Bali, Indonesia
Ubud is famous all over the world as a beautiful holiday destination, and you are likely to find your soul lost in remarkable Tegalalang rice terraces. It's true deep green color is due to the tropical climate of Bali.
Famous for their deep green colors, Tegalalang and Jatiluwih rice fields are true visual delights. The deep color of the fields is due to the tropical climate of the location. Being proud of the local people, the place turns into a major highlight of Indonesia's tourism. Despite this place occupying a small area, it offers an amazing sight of Indonesia's rice terrace landscape. The rice fields are surrounded by mountains, which makes its atmosphere really mysterious and exotic.
Things to do:
There are so many things to do and see in Ubud besides Tegalalang rice terraces if you have enough time. Here are some suggestions for your list: Ubud Monkey Forest which lies on the fringes of the Ubud main center, Goa Gajah 'Elephant Cave' – a region famous for historical collectors, Campuhan Ridge Walk for an escape from the bustles of the main streets, Ubud Art Market where you can find beautiful silk scarves, lightweight shirts, handmade woven bags, and many other hand-crafted goods, and Pura Taman Saraswati Temple – is a great stopover along your leisure walks through Ubud town.
Time to visit:
From Marth to April, you can see the terrace at its greenest. Between April and September, the fields have more of a yellow tint but are by no means less beautiful. The harvest field will be most beautiful from September to October when they turn into yellow.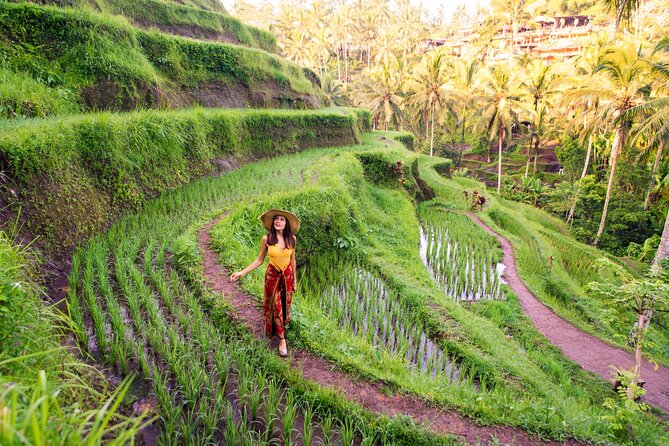 3. Mu Cang Chai Rice Terraces, Vietnam
Thanks to its pleasant climate, Mu Cang Chai is beautiful at any time of the year. But for best photos, there are two best times to visit: The first one is between April and June when the locals bring water to the fields to start a new rice season, the terraces then look like a big mirror reflecting sunbeam sparking on the water
After 8 hours driving from Hanoi by bus, you get the chance to admire the impressive Mu Cang Chai rice terraces and explore the local ethnic cultures of Tay and H'mong people. Trekking and home staying in the remote villages are interesting activities included.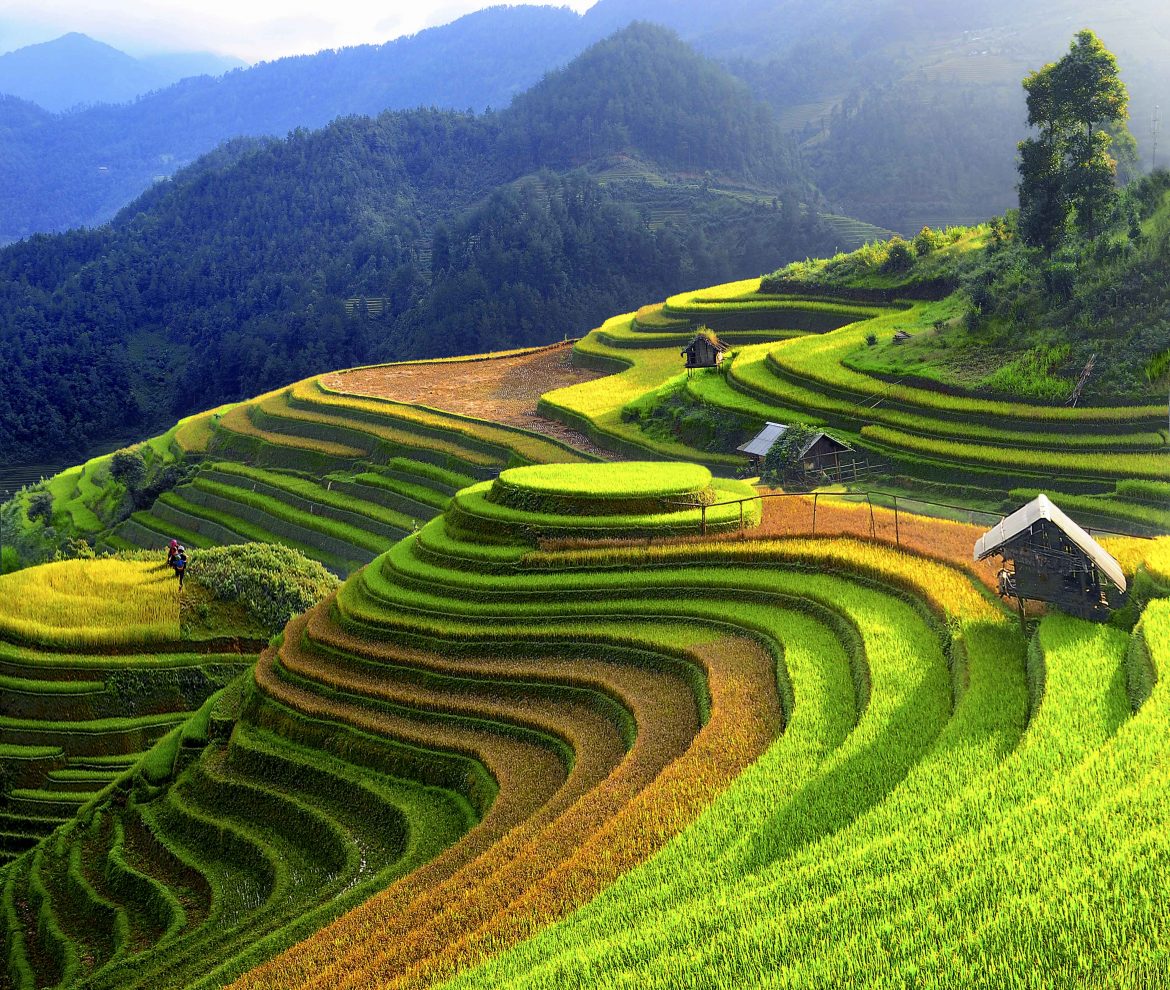 Things to do:
Once you get to Mu Cang Chai, make sure you can partake of the annual largest paragliding festival which happens from 22th – 24th of September at Khau Pha mountain pass. This festival attracts thousands of visitors and is the best way to view the breathtaking rice terraces from a height of 1,200 meters.
Time to visit:
The beauty of terrace field will change following the month. From the end of May to June, you may visit Mu Cang Chai in "falling water season". From June to September – pristinely green rice terraces when rice is growing, and between the late September and early October – the time of ripe rice terraces showing its fullest golden beauty.
4. Sapa Rice Terraces, Vietnam
308 kilometers northwest of Hanoi, Sapa is one of the most popular tourist attractions in Vietnam and once you are been there, don't miss its amazing rice terrace fields.
Rice terraces have been cultivated in Sapa for hundreds of years by a number of ethnic minorities such as the H'mong, the Dao, the Tay, and the Ha Nhi from generation to generation.
From the distance, the beautiful terraces look like a ladder with thousand steps toward the sky. The large rice fields are not only supplied food for the locals but also provide a breathtaking natural painting for travelers.
In summer, the whole fields are filled with bright green color like a carpet of a giant, and while you are still being astonished, the carpet turns to a brilliant yellow in late autumn creating the best-ever picture you have ever seen in your life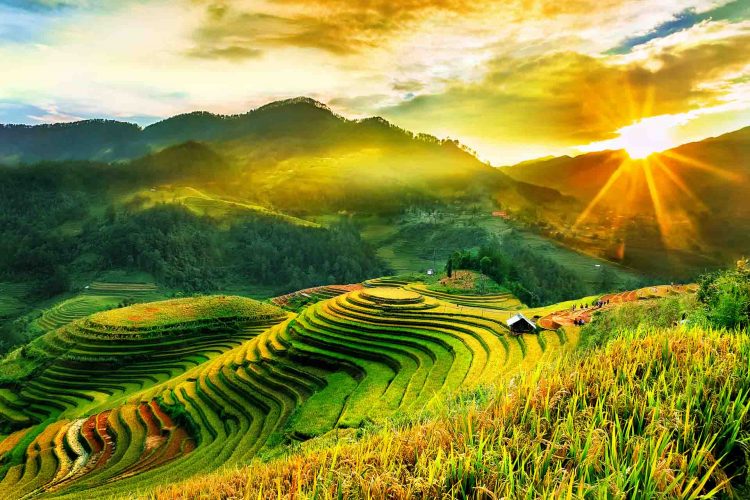 Things to do:
Rice terrace fields aren't the most interesting things to see in Sapa. There are many other things that can keep you busy all day. You can hike to visit Fansipan mountains (20km from Sapa town), shop at Sapa market, visit hill tribes and Silve waterfall…
Time to visit:
The best time to visit Sapa is from March to May and September to November, with September as the absolute best month. This is the month the rice is ready for harvest and the terraced rice fields are the longest with stunning yellow and golden colors.
5. Pa Pong Piang Rice Terraces – Chiang Mai's Best Kept Secret
One of Chiang Mai's Best Kept secrets – Ban Pa Pong Piang Rice terraces are one of the most photogenic spots in Thailand. Ban Pa Pong Piang (sometimes spelled as Pa Pong Pieng) is a little hamlet of rolling rice terraces nestled in the mountains of Doi Inthanon national park. Surrounded by fertile forested mountains, the verdant views and nature here are spectacular. The pictures speak for themselves.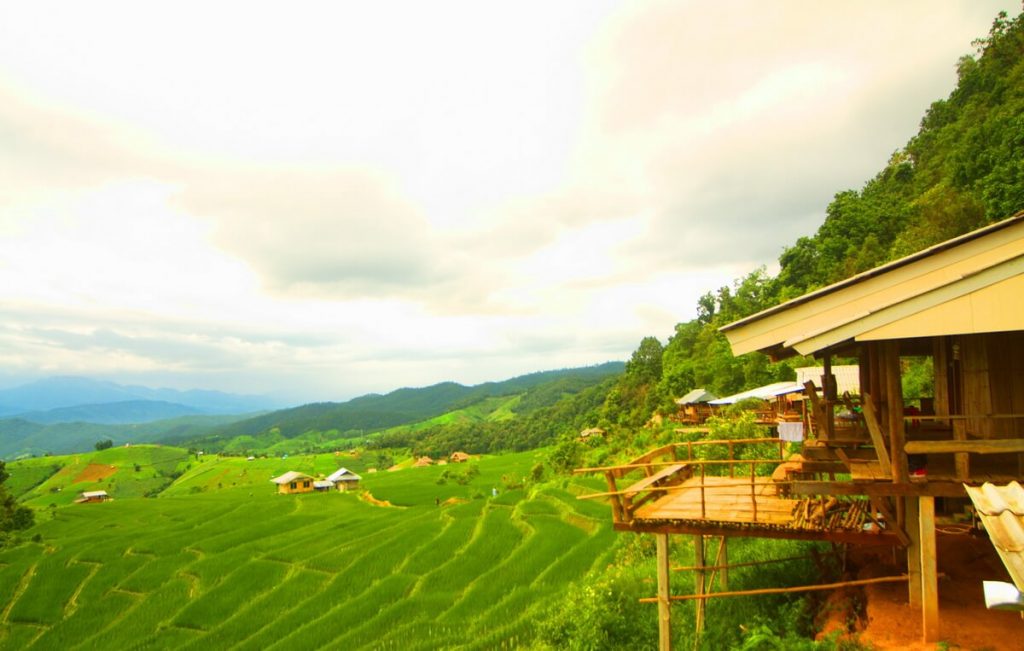 How to Get There
From Chiang Mai city, there's no form of direct public transport to Pa Pong Piang, so the best way of getting there is by private car. Its approximately 70km (2 hours drive) from Chiang Mai city, the last few kilometers of which are on a muddy trail only accessible by off-road vehicles.
Things to do:
On a day trip, you can get a trekking day to visit rice terraces and Karen hill tribes and see amazing waterfalls, taste fresh coffee, and see rice terraces all at once.
Time to visit:
During July and August, you could see the green rice fields till September. You could possibly see the golden terrace rice fields which are great for taking photos. These depend on how you prefer to see which part of the rice plantation season.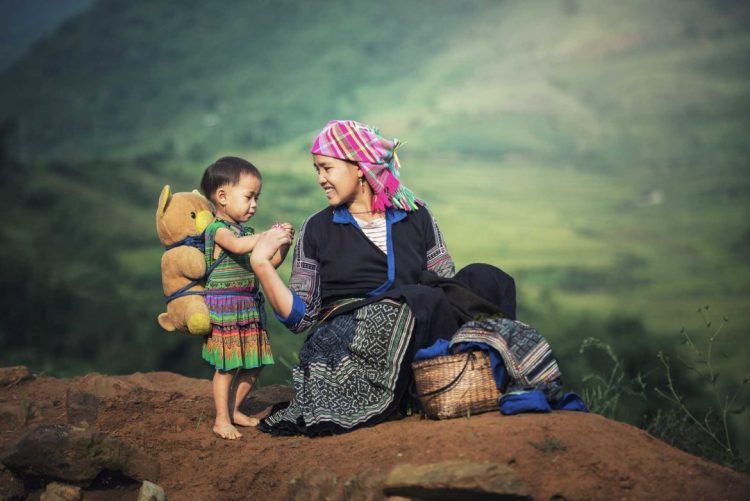 Plan to visit terraced fields with Adventura Travel
Vietnam, Indonesia, Philippines are known as the countries with the most breathtaking terraced fields in Southeast Asia. The terraced field has different beauty in each season. From May to June you can visit the field in the pouring water season. Then turns green from July to August. The best time to visit terrace fields is from September. Need further advice to arrange your trip to Southeast Asia for visiting terraced fields, you may speak to our travel experts at: [email protected].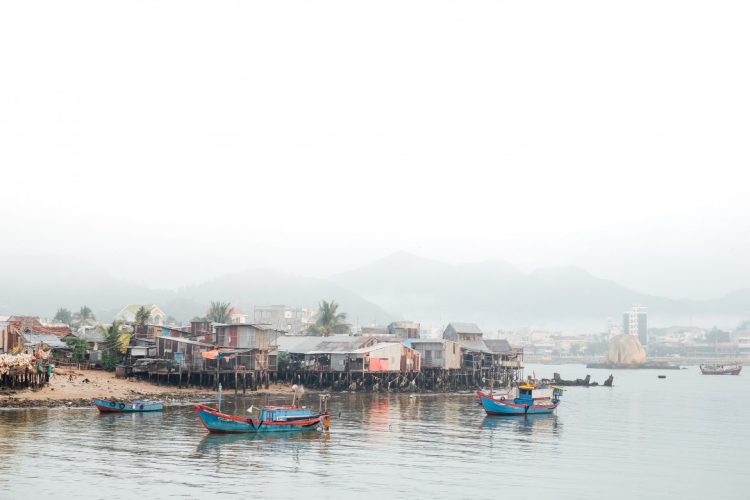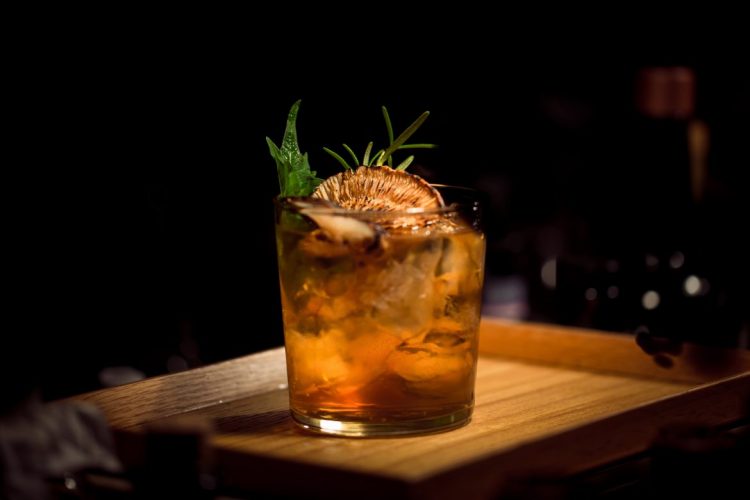 Sunset Cocktails & Dinner on Emperor Cruise Nha Trang Bay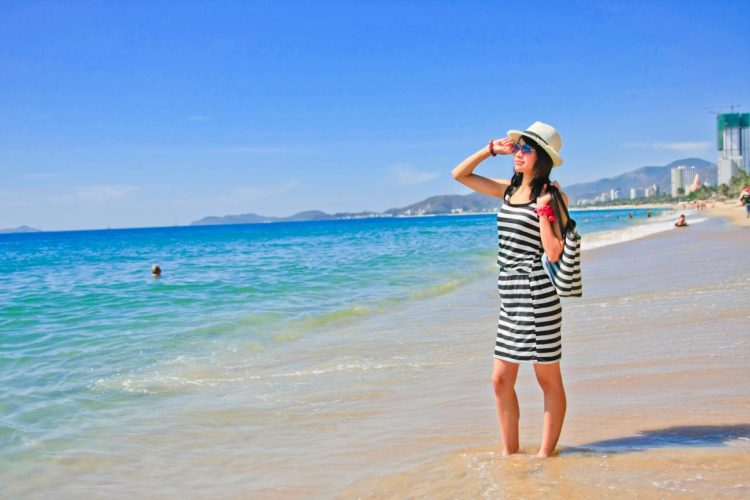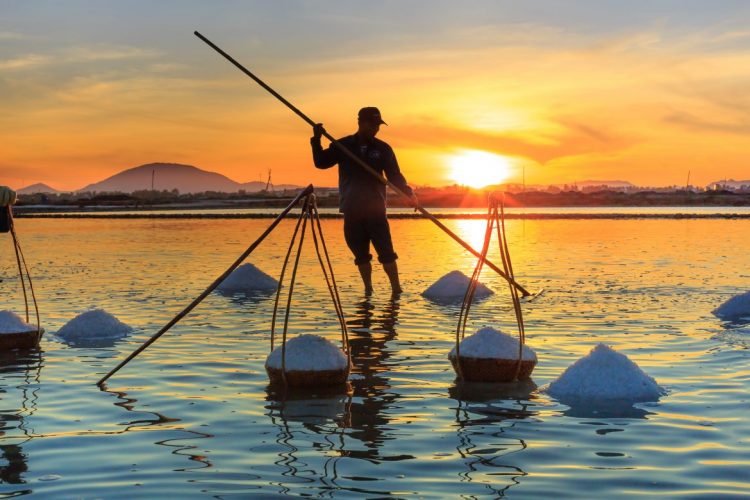 Nha Trang Islands & Snorkeling Full day Tour
Contact Us
Address No.456 Lac Long Quan Street, Tay Ho District, Hanoi, Vietnam
Phone: (+84) 24 3927 4120
Email: [email protected]
Hotline: +84-336-276-996